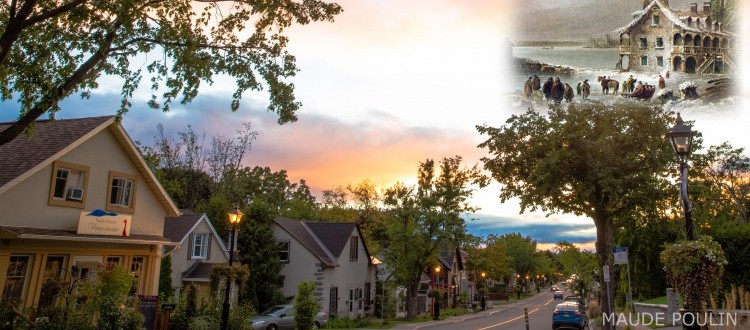 ---
The Old Aylmer tour showcases the urban architectural heritage of the city of Gatineau's best-preserved neighbourhood. Located close to the Ottawa River and Lac Deschênes, the tour covers several sites and buildings that marked the history of Old Aylmer and made up its commercial and administrative hub. Many of the houses you will see were built in the 1800s.

The 1.5 km route will take you from a residential sector to a more commercial and institutional one. We hope that you will enjoy the magnificent middle-class homes located on the north side of the street, and the onetime small merchants' homes across the street as you learn their stories.

In addition to well conserved heritage homes, you will discover a lively neighbourhood with small cafés, bistros, restaurants, bars with outdoor seating in the summer and lovely shops, each as appealing as the last one. Every Sunday in the summer, stop by the Market Square to stock up on local produce.

OFFLINE OPTION

You can preload the tour offered by this app. You will then be able to access maps and contents without need for a 3G Internet connection while you use the GPS guide in the mobile app. Earphones are recommended.

CREDITS

The financing of this mobile app has been made possible by the cultural development agreement between Quebec's ministère de la Culture et des Communications and Ville de Gatineau, Quebec's ministère du Tourisme and its partner Tourisme Outaouais, Caisse Desjardins Hull-Aylmer, Aylmer Heritage Association, Symmes Inn Museum and APICA (Association of Aylmer Professionals, Industrialists and Merchants).

Project coordination:
Gilles Laroche, President, Symmes Inn Museum
Micheline Lemieux, President, Aylmer Heritage Association

Research and writing:
Isabelle Desmeules, Micheline Lemieux and Gilles Laroche

Translation:
Katalin Poor

Narration:
Sylvain Landry and Joanne Anka

Contemporary photos and illustrations:
Marie-Hélène Larocque, Maude Polin and Sylvie Filion

Reference and iconography:
Archives form the Aylmer Heritage Association and
ALDRED, D. (1977) Aylmer Quebec: Its Heritage - son patrimoine. Aylmer Heritage Association.