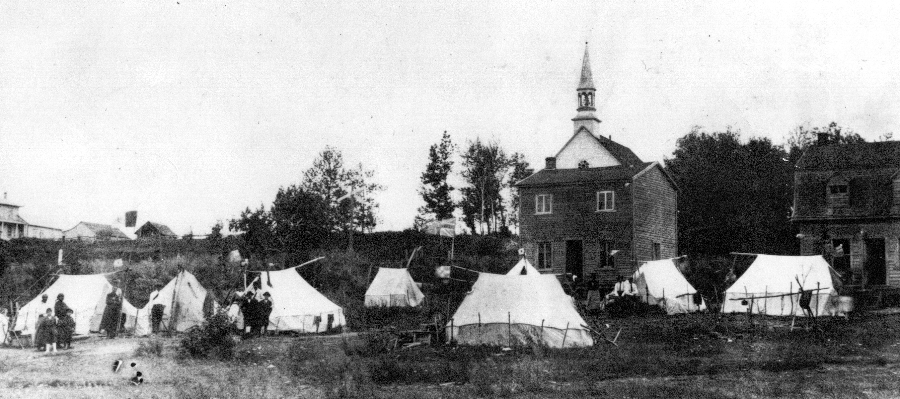 ---
Kuei,

Discover the trace (ulikassitan) of Ilnuatsh and take a moment to look around and let yourself get in the mood of 50, 100, 150 years ago. The one and only aboriginal community within the Saguenay-Lac-St-Jean is inviting you.

The legacy (kanikatamakuik uelutishiunau) of Pekuakamiulnuatsh manifest itself in different ways. Here are some traces (mehtauna) of our life (ilniun) in the community(ute ilnussihtsh) since 1856.

By following this path, you will learn how we adapted our way of life (Ilnu-aitun) to the sedentariness, while proudly keeping our customs and the traditions of our ancestors (tshutanishkutapaminuatsh).

In our desire to enhance and perpetuate these traditions, fragments of text in nehleun, the language of the Pekuakamiulnuatsh, will mark out the story (tipatshimum) you are about to discover.

The following path wants to be a witness of the past...

This project was made possible through the participation of the SHAM, for which we are graceful. The heritage and culture sector of Pekuakamiulnautsh Takuhikan also contributed in the insertion of words in nehleun in the texts, and thus made it possible to push the experience further, in bringing the feeling of specific elements of the Mashteuiatsh Ilnuatsh's culture and legacy.

The circuit can be visited mostly on foot. A few points of interest are however a few kilometers from the center of the community. It is suggested to walk or bike the path through the heart of the circuit and to get to the more distant points of interest by car, or bike.