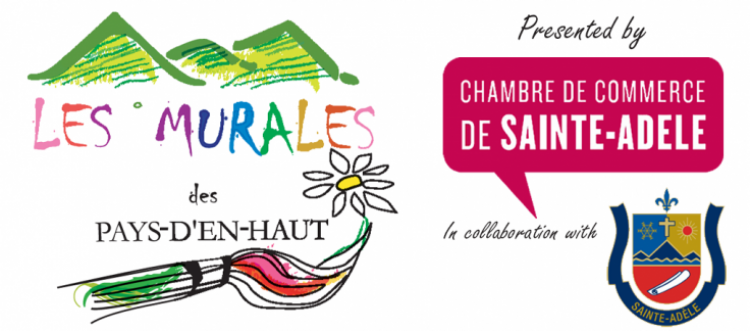 ---
Les Murales des Pays-d'en-Haut murals are giant paintings on the exterior walls of select buildings and on walls mounted on stilts. An outdoor art gallery showcasing the talent of renowned artists, the pieces included in this circuit feature typical scenes of the region all year round, both past and present.

OUR HERITAGE IN PAINTING - OUTDOOR ARTWORK IN SAINTE-ADÈLE
Featuring original creations by renowned artists.

Along the circuit, you will learn more about Sainte-Adèle and surrounding area while admiring superb paintings created by some of Quebec's most famous artists.

Discover the murals, one-by-one, with the circuit laid out in this booklet!

OFFLINE OPTION

If you do not wish to use a mobile broadband connection for this circuit, choose the "Preload" option. This way, you'll have access to all content while out on the circuit (via the "My Circuits" menu) and will have GPS guidance without being connected to the Internet. Enjoy the tour!

Enjoy!


CREDITS

Financial support is provided by the cultural development agreement concluded between the MRC des Pays-d'en-Haut and the Québec Ministry of Culture and Communications.


A production of MRC des Pays-d'en-Haut

With the special collaboration of:
- Sainte-Adèle Foundation
- MRC des Pays-d'en-Haut - Fonds de Culture et patrimoine
- Sainte-Adèle Chamber of Commerce

SPONSORS

Platinum Paintbrush
-Town of Sainte-Adèle
-Caisse populaire Desjardins des Pays-d'en-Haut

Gold Paintbrush:
-Restaurant Chez Milot (Sainte-Adèle and Boisbriand)
-La Corporation d'investissement Michel Raymond
-Pine Cinema
-IGA Marché au Chalet
-Constructions Tétris
-Hôtel Spa Excelsior
-Les Constructions Géranstruction Ltée.
-Amyot Gélinas, Comptables agréés
-Club de Golf La Vallée de Sainte-Adèle
-Service Station Plus
-Voizard, Voizard, Vallée Notaires
-Pharmacie L. Thériault et S. Paquette, affiliée à Brunet Métro L. Dufresne & Fils (Val-David)
-Desjardins Marine Sainte-Adèle

Silver Paintbrush:
-Yves de Carufel CGA inc.
-Rona Riopel et Fils Inc.
-Assurexperts Jolicoeur et Fils
-Les Agents RE/Max Sainte-Adèle Gestion Génique
-Pavage Ste-Adèle Ltée
-Atelier 85
-Philippe DeGaspé Beaubien
-Les Excavations William Ogilvie et Fils Inc.
-John Klein Fer Forgé
-Michel Guertin - Photographe
-Métro - Joanne Dubé
-Réal Desjardins

Bronze Paintbrush:
-Claude Cousineau, Deputy of Bertrand
-Les Entreprises P.L.G. Lauzon
-Auberge et Spa Beaux Rêves
-Barry, Régimbald, Lessard, Arpenteurs Géomètre

Thank also to the Écuries du Chantecler stables and to our tour guide, Jocelyne Béland.