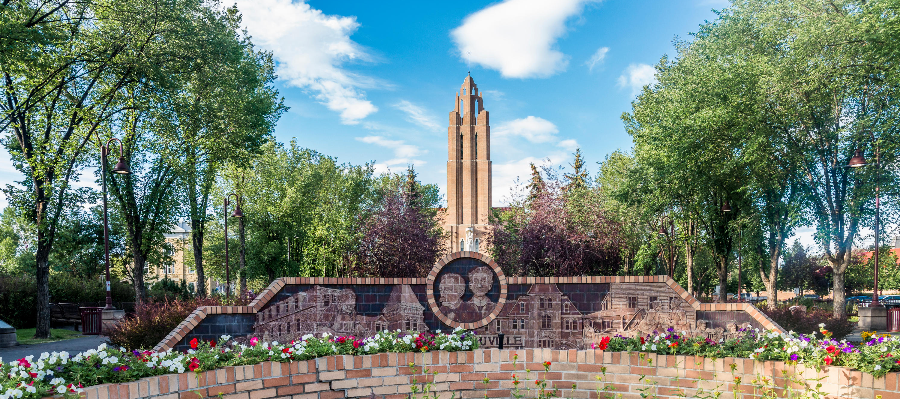 ---
Whether you are on foot, bicycle, skis or snowshoes in the winter, this tour will guide you through time and space in Calgary's historic francophone district which, at one time, was known as Rouleauville.

Plan on two hours to visit the 14 sites. As you will discover, it is very easy to spend time dreaming, strolling and taking a few gourmet breaks along the way.

Don't hesitate to linger on a bench in Rouleauville Square, soak up the sun as you snack in Lindsay Park, or cool off along the Elbow River pathway. To tickle your taste buds, you can savour the gastronomic delights along the way.

Our visit starts at Rouleauville Square since it has long been the heart of the village. Today it is still a peaceful haven and popular meeting place for many district residents.

CONTEXT

The territory of Rouleauville, covering an area of two quarter-sections, was acquired in 1883 by the missionary Oblates of Mary Immaculate and Fathers Albert Lacombe and Hippolyte Leduc after lobbying the federal government.

This happened while the Canadian Pacific Railway was coming to Calgary and even before the City of Calgary was incorporated in 1884. Father Lacombe wished to obtain a permanent homestead for the Notre-Dame-de-la-Paix evangelization mission, founded 10 years earlier and relocated along the Bow Valley.

The Oblates sought to establish peace between the colonists from eastern Canada, the Métis and the Indigenous peoples, particularly the Blackfoot. As well as to develop health care, trade and Catholic religious education in French.

The influence of the Oblate Fathers and the Catholic religion can be felt in all the institutions and buildings at Notre-Dame-de-la-Paix and Rouleauville, particularly in the architecture and place names: Notre-Dame, Sainte-Marie, Sacré-Coeur, Sainte-Croix and Saint-Joseph.

Rouleauville is named after the Rouleau brothers, two notable mission residents originally from l'Isle-Verte in Lower Canada who had a major influence on the area. To learn more, don't hesitate to take this bilingual tour and step into Calgary's authentic francophone past.

ACKNOWLEDGEMENT OF THE LAND

In the spirit of respect and truth, we honour and acknowledge the traditional territories of the people of the Treaty 7 region in Southern Alberta, which includes the Blackfoot Confederacy, comprising the Siksika, Piikani, and Kainai First Nations, the Tsuu T'ina First Nation, and the Stoney Nakoda including the Chiniki, Bearspaw and Wesley First Nations.

We honour and acknowledge the members of the Métis community and specifically, the Métis Nation of Alberta, Region 3. In the spirit of reconciliation and because we are all treaty people, we also acknowledge all Calgarians established in the traditional Treaty 7 territory of Southern Alberta.